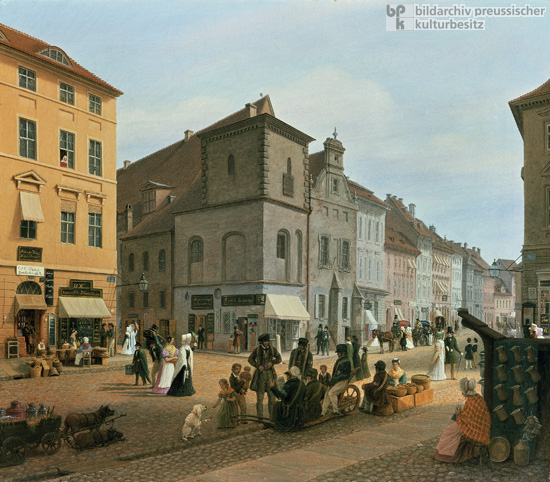 The Old Berlin City Hall (1840), Johann Wilhelm Brücke
It is necessary to mention that my cousin lives in a small room with a low ceiling, high above
the
street. That is
the
usual custom of writers and poets. What does
the
low ceiling matter? Imagination soars aloft and builds a high and cheerful dome that rises to
the
radiant blue sky. Thus
the
poet's cramped quarters are like
the
garden that consisted of ten square feet enclosed within four walls: neither broad nor long, but always at an agreeable height. Moreover, my cousin's lodgings are in
the
most attractive part of our capital city, overlooking
the
big market square
which is surrounded by magnificent buildings and has
the
colossal theatre, a work of genius, adorning its centre.
The
house where my cousin lives stands on a corner, and from
the
window of a tiny room he can overlook
the
entire panorama of
the
splendid square at a single glance.
'You probably think', went on my cousin, ignoring my reaction, 'that my health is improving, or that I've made a complete recovery. That's anything but true. My legs are disloyal vassals who have refused obedience to
the
head of their ruler, and want nothing more to do with
the
rest of my worthy corpse. That's to say, I can't move from
the
spot, and cart myself to and fro in this wheelchair in
the
most charming fashion, while my old soldier whistles'
the
most tuneful marches he remembers from his army years. But this window is my comfort; it is here that life in all its colour has been revealed to me anew, and I feel at home with its incessant activity. Come, cousin, look outside! '
I sat down opposite my cousin on a small stool for which there was just room in front of
the
window.
The
view was indeed strange and surprising.
The
entire market seemed like a single mass of people squeezed tightly together, so that one would have thought that an apple thrown into it would never reach
the
ground. Tiny specks of
the
most varied colours were gleaming in
the
sunshine; this gave me
the
impression of a large bed of tulips being blown hither and thither by
the
wind, and I had to confess that
the
view, while certainly very attractive, soon became tiring, and might give over-sensitive people a slight feeling of giddiness, like
the
not disagreeable delirium one feels at
the
onset of a dream. I assumed that this accounted for
the
pleasure that my cousin derived from his corner window, and told him so quite frankly.
My cousin, however, clapped his hands together above his head, and
the
following conversation developed between us:
MY COUSIN: Cousin, cousin! I now see clearly that you haven't
the
tiniest spark of literary talent. You lack
the
first prerequisite for treading in
the
footsteps of your worthy paralysed cousin: an eye that can really see.
The
market down there offers you nothing but
the
sight of a motley, bewildering throng of people animated by meaningless activity. Ho, ho, my friend! I can derive from it
the
most varied scenery of town life, and my mind, an honest Callot, or a modern Chodowiecki, dashes off a whole series of sketches, some of them very bold in their outlines. Come on, cousin! Let me see if I can't teach you at least
the
rudiments of
the
art of seeing. Look directly down into
the
street--here are my field-glasses--do you see
the
somewhat strangely dressed person with a large shopping-basket on her arm who is deep in conversation with a brush-maker and seems to be hurriedly settling domestic matters quite unconnected with bodily nourishment?
from E.T.A. Hoffmann,
My
Cousin's
Corner Window
(Hoffmann's short story has strong autobiographical elements, since he himself was living in Berlin at the time of writing, was

paralyzed

and died only a few months later)